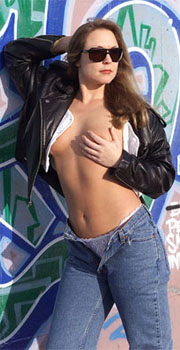 Welcome to my little Corner.

I'm so glad that you found me. The web is a very big place. We must be star crossed... What are the odds of you finding me? you and me are pretty darn lucky. Alright- so let's get to the scoop. You want to learn more about me.... well I'm a real tough cookie. I like to hang out at pool halls in my biker jacket. i go there to pick up guys. yeah- tough guys.... Tough guys turn me on. because they have soft spot when you get to know them. so if you are tough guy...you might have a chance with me.

When I can't find a guy to get off on... I play with my vibrating dildo. It's great.... Life's tough... Lesson number #1 Dildo's are your best friends! Lesson number #2 Have plenty of batteries on hand. Shiiit-- if you have a vibrating dildo and no batteries... it really sucks.

I'm just learning the ropes on this website building. It's a hobby for now. It's fun meeting other people online. I found making a website gets you alot of attention. AOL profiles got me hooked! Ok- check me out... browse around... If you like me and what to see more of me, join my site! You wont regret it.